Question: I keep getting Quota Warnings but my Email appears empty
Usually, this is caused by a forgotten configuration on the POP3 mail client. Check your client application to be sure that you are removing messages from the server either immediately after downloading, a specified number of days after downloading or when deleted from the local trash.
You should feel free to change the settings to best suit your needs. For example, if you receive mail on a PC and your mobile phone, you may wish to leave messages on the server for a few days to allow both devices to copy the email from the server before it is deleted. Or you may only receive email on one computer and want to have the email deleted from the server when you empty the trash on that computer.
In Microsoft Outlook you will find these settings in Tools menu under Email Accounts-->View or change existing e-mail accounts-->(Kattare account) Change-->More Settings-->Advanced: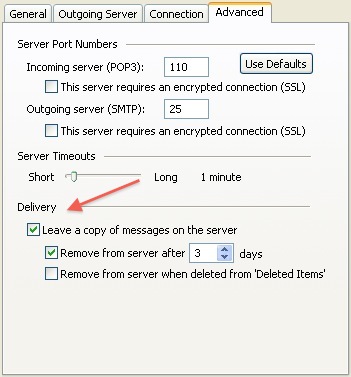 In Microsoft Outlook Express and Windows Live Mail for Windows7, you will find them in the Tools menu under Accounts-->(Kattare account) Properties-->Advanced: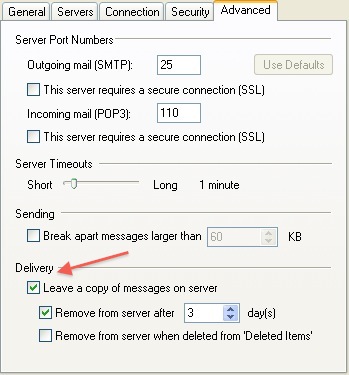 In Mozilla Thunderbird for Windows or Mac OS X the options appear in the Tools menu under Account Settings...-->(Kattare Account)(Server Settings):
Windows: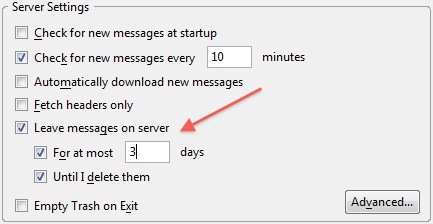 Mac OS X: :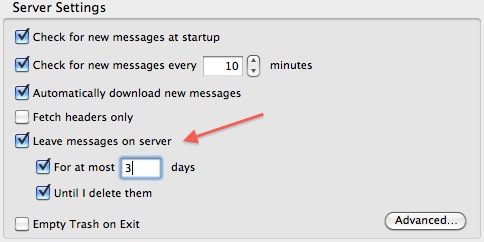 In Apple Mail, you will find them in the Mail menu under Preferences-->Accounts-->(Kattare Account) Mailbox Behaviors: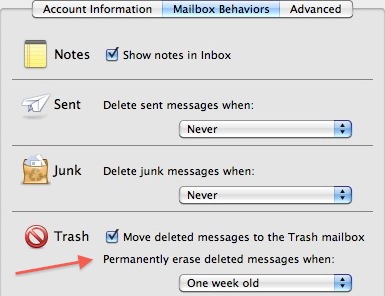 In Microsoft Entourage for Mac Office 2008, they are in the Tools menu in Accounts. Double click on your Kattare Account then select the Options tab: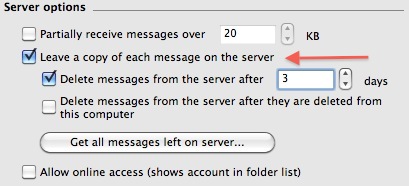 ---